Crystal Totten, M.D.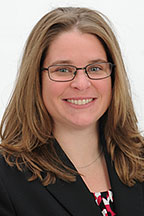 Dr. Crystal Totten joined SAS Surgery and Vein Specialists in the Fall of 2016. Her enthusiasm for medicine started at a young age as a mock patient in disaster drills, augmented by a summer research program while still in high school. Dr. Totten earn a B.S. in Biochemistry from the University of Florida prior to matriculating into University of South Florida Morsani College of Medicine for medical school. During her education, Dr. Totten was also dedicated to international medical missions spanning all over the world, from Panama to Ethiopia.
Dr. Totten elected to remain in Florida to complete her surgical training at The University of South Florida in Tampa in 2015. During her residency, she became a leader to her peers. Her passion for minimally invasive surgery using advanced laparoscopy and robotics grew. She completed a fellowship in Minimally Invasive Surgery at the University of Kentucky in 2016. During her fellowship, Dr. Totten performed reflux, hiatal hernia operations and countless abdominal wall hernia operations on patients who have failed multiple prior repairs. She has numerous research publications regarding hernia mesh options, cost, patient recovery, as well as a book chapter on guidelines for hernia repair and presented all over the country for her work in this field.
Dr. Totten is currently operating at Ohio Valley Medical Center and Springfield Regional Medical Center. She is board certified by the American Board of Surgery. She is also an active member of the American College of Surgeons (ACS), Society of American Gastrointestinal and Endoscopic Surgeons (SAGES), International Hernia Collaboration (IHC), Robotic Surgery Collaboration, and the Association for Academic Surgery.
Dr. Totten is a general surgeon who utilizes open, laparoscopic and robotic techniques for a multitude of procedures. She has a special interest in swallowing disorders, reflux, hiatal hernias and abdominal wall hernias (ventral, incisional, groin). She also performs laparoscopic colon surgery, gallbladder, adrenal, splenic and stomach procedures as well as endoscopies including EGD and colonoscopy.
Dr. Totten is committed to bringing the highest level of care to the Springfield and surrounding communities. Her goal is to tailor your surgery to your body. As an active member in multiple surgical societies, she promises to remain up-to-date bringing state of the art care to you and your family. Dr. Totten currently resides in Springfield with her family. Her interest include softball, tennis, skiing, hiking, and anything outdoors. She is looking forward to many years of practice in the Springfield community.