Murielle L. Brohez, M.D., F.A.C.S.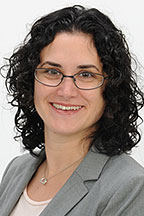 Dr. Murielle Brohez joined SAS Surgery & Vein Specialists in the Fall of 2016. Having grown up all over the world, Dr. Brohez is excited to set roots in Springfield. Dr. Brohez earned her B.S. with Honors in Biology from Graceland University, Iowa. She then matriculated from St. George's University School of Medicine.
Dr. Brohez completed her surgical internship and residency at Stamford Hospital/Columbia Hospital Physicians and Surgeons NY. During her training she performed clinical and lab research in hernia technology, advancements in trauma care and breast surgery. Dr. Brohez was awarded the resident research award in 2008 at Stamford Hospital, CT. Following completion of a fellowship in Advanced GI Laparoscopy and Bariatrics at the University of South Florida, Dr. Brohez practiced in Southern Ohio for 5 years.
Dr. Brohez currently operates at Ohio Valley Medical Center and Springfield Regional Medical Center. Dr. Brohez is board certified by the American Board of Surgeons and is a Fellow of the American College of Surgeons (FACS). She is also a member of American Medical Association (AMA), Association of Woman Surgeon (AWS), International Hernia Collaboration (IHC), American Hernia Society (AHS), and the Society of Laparoendoscopic Surgeons (SLS).
Dr. Brohez practices general, all hernia types, Gastro Esophageal Reflux Disease (GERD) with and without hiatal hernias, endocrine (including thyroid, distal pancreas, adrenal and splenic disorders), advance laparoscopic surgery (colon resections and hernia repairs), endoscopic surgery (including upper endoscopies, colonoscopies both diagnostic and therapeutic), robotic surgery and bariatric surgery. She has special interest in hernias and disorders of the gastrointestinal tract.
Dr. Brohez is committed to bring state of the art surgery with the latest advancement in surgical technology and comprehensive surgical care to the Springfield area. Big city care to our town! Every patient is treated like she would want her parents treated.
Dr. Brohez resides in Springfield with her family and her furry babies. Her interests and hobbies include tennis, volleyball, coaching and teaching, hiking, skiing, cooking and travelling.